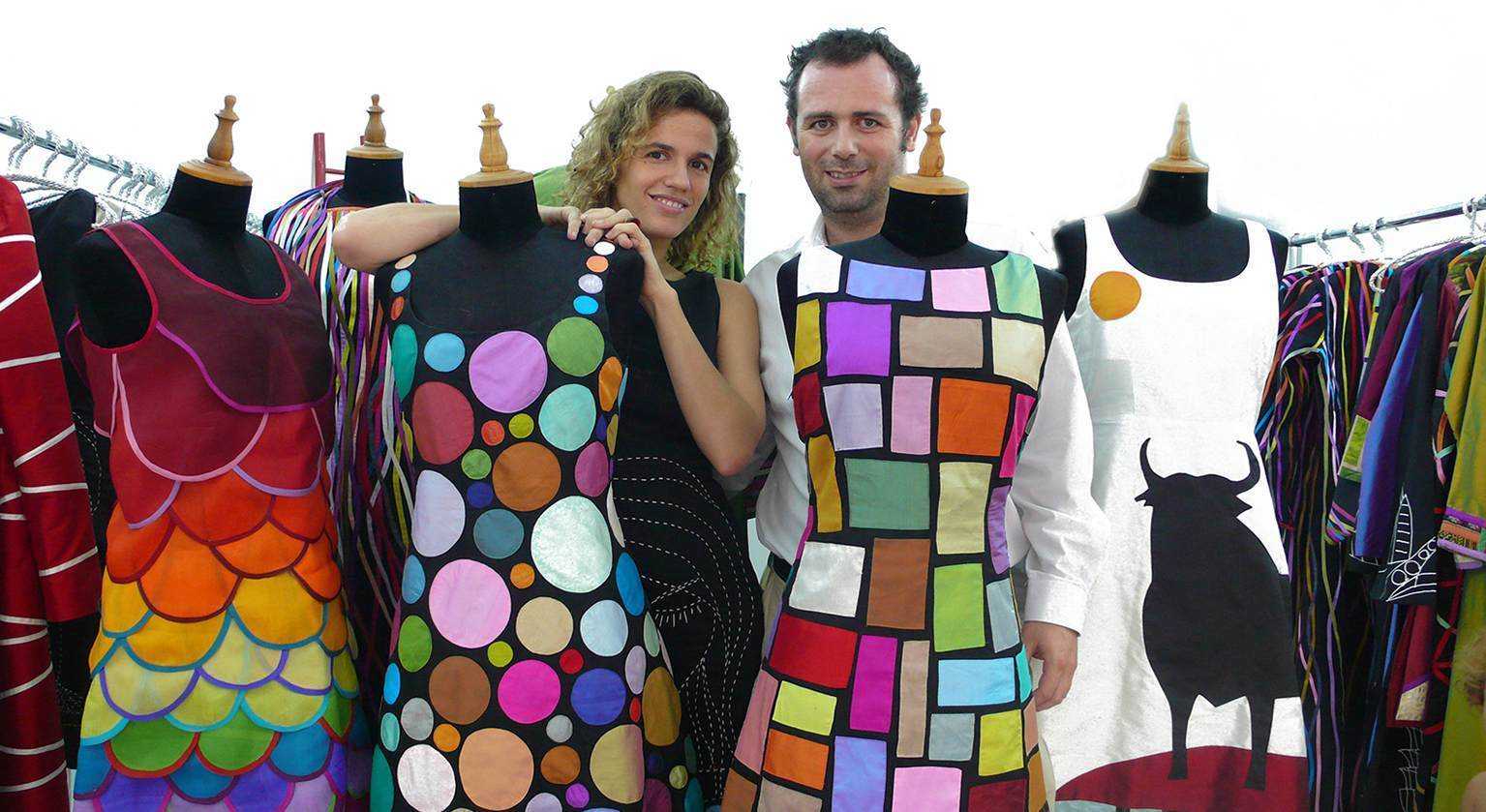 21 Aug

Chula

When fashion is used as a medium to serve a purpose that is bigger than oneself. This is the mission Spanish fashion designers Diego Del Valle Cortizas and his wife Laura Fontan embarked on thirteen years ago when they settled in Vietnam and created Chula. Employing mostly people with physical disabilities, Chula is a fashion brand, a community, as well as a social hub and an art center.

By Victoria Adelaide | OCT 23. 2017

Victoria Adelaide: Why Chula?
Diego Del Valle Cortizas (Chula): Chula is a Spanish adjective that means 'something different, something special, cool'. You can use it as well to describe a woman who is proud of who she is and doesn't care what people think about her. We chose this name because we like the attitude that it carries, its meaning, but also because we really like the sound of the word as it is easy to say in many languages, from Vietnamese, to English, to Japanese.

VA: You said that Fashion is just an excuse to achieve something that is greater than you?
DDVC: We (Laura and Diego) arrived in Vietnam in 2003. We weren't from the fashion world (I studied architecture and Laura political science) and in some ways, we think fashion was just an excuse for us to explore Vietnam and our creativity. We wanted to create something personal rooted in the local culture, but with a global flair and a language everyone could understand. It could have been many things such as selling furniture, or a restaurant, but it happened that fashion was the best medium for that and gave us the energy to continue and to explore more.

VA: Would you say Vietnam has been a spiritual call for you and Laura?
DDVC: Of course. Chula and our family are both connected to Vietnam. We came to Vietnam to visit Laura's brother and we started Chula as a game, designing a few dresses for Laura to go to a party. Two months later, Laura got pregnant and we decided to have the baby here and founded the company. In just a year, our lives changed drastically on all levels, professionally and personally, when we decided to settle in Vietnam. It was the best decision we made. We had our three children in Vietnam and the company has grown from zero to five stores. We have more than sixty great artists in our team.

VA: Diego, in your own words 'When you work with somebody who has a disability, you start to realize that everybody has some kind of disability in life':
DDVC: When we arrived in Vietnam, I realized that there were many things we were not able to do like a Vietnamese person would, because of the language barrier and because we didn't have a full understanding of the culture. So, it was very naturally that we started to work with a person with a disability. 'Duong', our embroiderer, was the first woman with a disability that we worked with. She is deaf. We learned sign language as well as Vietnamese. We feel very close to the hearing-impaired community. Of course, we realized that when a person has a disability, she or he develops other kinds of abilities, social, moral and artistic, to name a few. We all have a weakness and something that we are really good at, and it is the same for people with physical disabilities. They can be limited in some areas, but they are better than the average in other areas. We all have some kind of hidden disabilities and those with visible disabilities also have hidden treasures and skills. There is no difference between us. We are all the same.
Photos: Courtesy of Chula
VA: What kind of depth has learning sign language added into your life?
DDVC: Sign language is a wonderful tool to connect people. It's the most natural form of expression, it's fast, you look into the eyes, you act, you lose your shyness. Sign language is beautiful. You realize that words and spoken language are sometimes more of a weapon, rather than real communication tools. Sign language is direct and goes straight to the point, which is communication and feelings. We are so dependent and enslaved by words, by spoken language which on many occasions happens to not really express our true feelings. When we travel, we always meet people who speak sign language, and it's always a wonderful experience when you meet a deaf person and can sign a little. It's like meeting a relative from your village. You feel a special bond that you cannot feel with anybody else.
VA: 100% of your staff are disabled people. What would you like to tell employers who may be hesitant to hire a disabled person?
DDVC: 100% of the production team in Chula has some kind of disability. With the sales staff, administration team, etc., the percentage is a little bit lower, at about 80%, but of course even the regular people in Chula have to learn sign language. In the administration team, accounting and website graphics teams as well, we have people with other disabilities such as mobility issues, not just hearing impairment. A person with a disability can't do every type of job. They need to find a job suitable for their skills just like everyone, and they need to forget about their problems. You just need to give them a chance to improve and learn, and a nice environment where they feel useful like anybody else. Chula is not an NGO; it's a workplace with wonderful artists who really feel proud of their work, because when our clients visit us, they show their appreciation directly to the workers.
VA: You are a painter, sculptor and photographer. Is fashion the perfect way to combine all of those skills in one?
DDVC: In some ways yes. I'm not good enough as a photographer, or as a painter. Fashion gives me the possibility to combine many of those skills. I really like the possibilities that the fashion industry has to offer, where many artistic skills can be used in a fashion show from painting, photography, music, theater, lighting, acting, handicraft, etc. It's like a movie made in one day. Our workshop is located within our headquarters, so the production is part of this kind of circus. You can see the whole production process from the sketch to the final dress. There are aspects of the fashion industry I don't like, such as all the trendy things, VIP rows and shallowness, but on the other hand, I like the dynamism, the freedom, the open-mindedness and the combination of different forms of art. Other form of arts often have a timeless feel, in fashion you have to think in the 'Here & Now'. It is exhausting, but always refreshing.
VA: Chula is very much rooted in the Vietnamese tradition, but also has many other flavors. Where do you find your inspiration in order to permanently create all this diversity?
DDVC: Yes, it's true that the main inspiration for Chula is Vietnam with the silk textiles and brocades of ethnic minorities, as well as the daily life of Hanoi, the city where we live. We're not here to make a resume of the Vietnamese textiles history. We want to speak an international language, so that even if you've never visited Vietnam, you can understand and enjoy the dresses. Our Spanish background is a great asset for this purpose. Spain is a land of mixed cultures, which helps us to have an approach to the world with different perspectives and not just from a unique point of view.
VA: You have received an award from the Spanish Minister of Foreign Affairs as one of the leading Spanish fashion designers representing your country abroad. How does that feel?
DDVC: To get recognition from your own country and to be included in a list alongside fashion designers such as Manolo Blahnik is a great satisfaction. Usually when you leave your own country you feel that you are an outsider and in some ways, receiving an award helps you to still feel connected. At the same time, we're so proud that the Vietnamese government has invited Chula to represent Vietnam at different international fashion shows in Washington DC and in Rome. This summer we've been invited to represent Vietnam for the 40th anniversary of the diplomatic relations between Vietnam & Spain, with both countries represented in the same fashion show in Madrid. One of our wildest dreams came true.
VA: Chula has gone from a locally praised enterprise to international recognition in just a few years. How do you explain the global fascination for your brand?
DDVC: We feel very lucky to have the opportunity to show our creations in various cities around the world and to have in Hanoi many international customers who visit our workshop and buy our creations, which they wear back home. Chula is already implanted in many parts of the world. We have customers from 150 nationalities. We've personally met 90% of them, which makes it very special to us. Word of mouth has been a great help for Chula's development, with the aim to develop products that could speak to, and could be understood by, everyone, even though Chula is rooted in traditions. When we come to a new country to show our collections we always want to make a mini collection inspired by the country. New York, Paris, Tokyo, Madrid, Rome, Hong Kong, Bangkok and the Grand Canyon are some of the places that inspired us in our creativity. We want to expand Chula internationally and create a wide range of designs with various influences, the opposite of the franchise model, which tries to standardize and globalize. Our goal and interest is to add more influences into Chula's universe.
VA: Chula is also a cultural center, where local and international artists, painters and musicians can exhibit their work and perform live. Is it easier to mobilize people around an initiative like this one in a country like Vietnam than it would be in Spain?
DDVC: Yes, the cultural hub is one of the most important part of Chula. I always say that Chula has three important legs; the fashion designs, the social company and the cultural hub. The cultural part of Chula is the way we share space, experiencing and supporting local and international artists. In Vietnam, there are not many places where artists can exhibit their art, perform or just connect. Our aim is to try to change that by making our small contribution. It is a real pleasure for us to meet so many interesting painters, photographers, sculptors, musicians, writers and filmmakers, which gives us a new vision. I think Vietnam is a very open country for this kind of initiative.
VA: You and Laura have been fully committed to Chula for many years. How do you manage to combine professional, private and family life so well, while raising three kids in the crowded city of Hanoi?
DDVC: We always say that working together is the best thing we could do for the brand. Because we both studied in different fields, architecture and political science, we are very complementary. Working together for Chula gives us the possibility to share a project and a common passion. We share much of the work in the company, but at the same time we have our independence, which allows us to grow as a couple. It is the same with our children. Thanks to Chula, they have been learning a lot since a very young age, they have very active social lives and have been meeting different people since they were little. We do not separate our professional from our personal life; for many people, our lifestyle wouldn't be suitable but this is what works for us.
VA: Have you got new projects you are working on that our readers would be excited to know about?
DDVC: In the coming years, we plan to have more shops in Vietnam. We currently have five shops in Vietnam and we want to make the Hoi An and Saigon shops more active by adding cultural activities. We want to travel more and organize more pop events around the world, focusing on South Asia during wintertime and Europe & America during summertime. We're also developing our sales online, which is very important, with Chula in other cultures such as Chula Mexico, Chula India or Chula Morocco.
VA: What would you like to say to those who read this interview?
DDVC: We really want to encourage people to be open to other perspectives in life, not to be afraid of change and to keep in mind that creativity could really change their life. Not to believe stereotypes like 'Don't work with your husband or wife' or 'Just focus on one thing', as there are no rules. Everyone can find his or her own recipe for success. For those who own a company, we really encourage them to try to work with people with disabilities and with minorities who don't have easy lives. I think it is a part of the responsibility of entrepreneurs to give a chance to those who are disadvantaged. I believe a company should not be based only on material profit for the owner, but should also be rooted in the moral and spiritual values that could bring a positive outcome to you and the people who work for you, as well as your clients.
...We all have some kind of hidden disabilities and those with visible disabilities also have hidden treasures and skills.'``