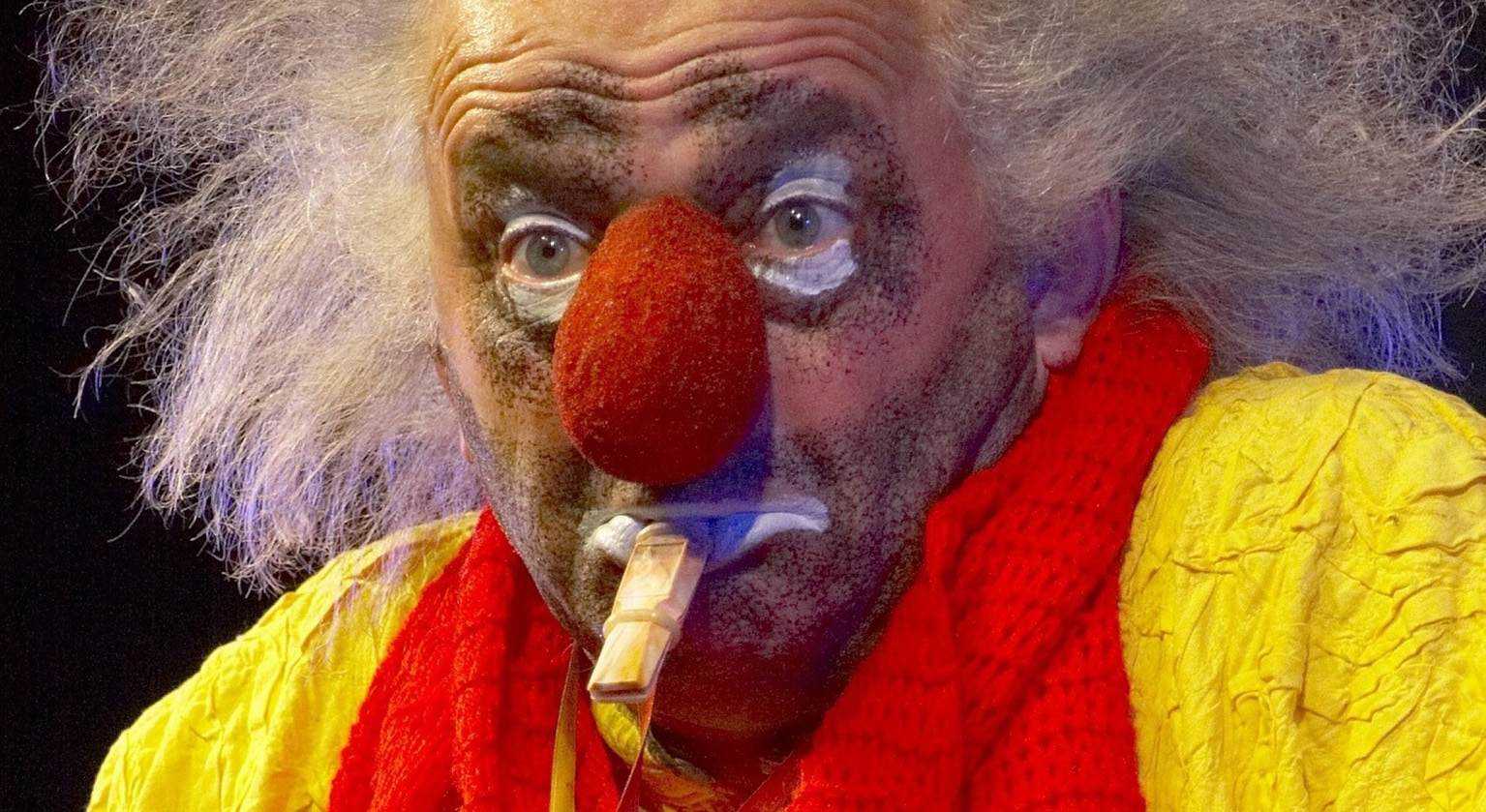 04 Oct

Slava Polunin

The most famous clown in the world, Slava Polunin's spectacular 'Snow Show' has mesmerized millions of ecstatic spectators all over the planet since 1993. Conversation with a clown philosopher whose aim is to take us back to childhood and help us create life as a work of art.

By Victoria Adelaide | NOV 06. 2017

Victoria Adelaide: Your inspirations are Charlie Chaplin, Marcel Marceau and the Russian clown Leonid Engibarov. You started as a mime. Why did you become a clown?
Slava Polunin: When I was a child, I wrote an essay at school saying that someday I would become a clown. And later on, I familiarized myself with the work of Marcel Marceau. I got into pantomime and mime, performed a lot and I was very successful. I also had a great teacher, who once told me that I should be a clown. I asked him why? And he said because grotesque seems so natural and easy for me and this is something that is characteristic of clowning. In a matter of a few months, I had this new character; I was a clown, I performed on TV and this clowning became a huge success.

VA: Your character is non-verbal. What makes it so appealing?
SP: I think a non-verbal character looks more mysterious, more intriguing; it's like coming from another world. I also think that the previous century was way too chatty so nowadays, it just feels very natural to move on to images and pictures.

VA: You say you know how to be happy, so you teach people to be happy. Can we teach happiness?
SP: Of course, yes, even though I do not really like the word 'teacher'. Because the word 'teacher' means that someone is higher, and the other person is looking up to that person, just listening, and is smaller, on a different level.

VA: What word would you use then to express that?
SP: I strive to use fewer words in general, and what I'm trying to do is to go on a journey with these people, even if it's a small journey, a small trip. We have to choose a destination that we are interested in together, and move on toward that target together. In the process of life, we are sharing our understanding on life philosophy. For instance, 'Snowshow' is a life journey where the audience comes together with the character; they set out on a journey and they go together on a trip. During the course of the show, the audience members realize that I'm helping them remember their childhood dreams, and to go back there. When we were children, we were happy because we knew exactly what we wanted. So, after the show the audience can go back to that journey and continue moving toward to a childhood dream.

VA: You said we need to create a special zone around happy people. Do you think happiness is endangered?
SP: It's not that it's endangered; it's just that it is very rare. So, we have to treasure and take care of the chance we may have to be happy and to share happiness.

VA: Being a clown, isn't it in some way the outfit that suits you best to be yourself?
SP: You could say that. Because through clowning, I'm finding a space that is harmonious for me, that is in keeping with who I am. In general, clowns don't really strive to get anywhere or to get anything; on the contrary, they are a certain way because they cannot help it. There is no other way for them to be and this is for them the only possible way to exist. Even though clowns do try sometimes to get rid of their status, they cannot, because it's a gift. Whether it comes from God or from your mother, there is nothing you can do about it, you have this gift and you have to enjoy it!
Photo Gallery Credits: Photo: 1 & 4 Anna Hannikainen / Photo 2: Aya Rufin / Photo 3: Anna Bogodist/ Photo 5: Vanya Polunin / Photo 6: Viktor Dmitriev
VA: You lived as a gipsy most of your life; why did you decide to settle and why in Paris?
SP: Actually, I spread a very much wider context, because I decided at some point to try this non-nomadic life, a more settled life. I had these three images guiding me, and they were important to me. One of these images was a windmill, another image was a ship, like a ship of fools (which is something that I realized I actually did in Moscow), the third one was a chapiteau, (and I also realized that I was the Director of the State Circus in St Petersburg). But the most important thing is, yes, you could not really say that I am rooted and settled in just one place, because I have so many things and so many projects. Where the projects are, there I live and there I am simultaneously in many places. Regarding 'Moulin Jaune', it really became a laboratory, "my main lab", from where I'm creating and composing life. There is nature at 'Moulin Jaune', and for me, that's wonderful and that's something I am in harmony with.
VA: Theater clownery and circus clownery – what is your favorite context to perform?
SP: What I really love are new challenges, new opportunities and to really get to know the world through creativity. I started by being a mime, then I became a clown, then a street artist and after that, I started organizing contemporary carnivals, and I tried to understand what a fool is in today's world. Of course, my last project and my favorite one so far is at 'Moulin Jaune', where the idea is to combine everyday life, art, and nature, these three things all together without boundaries. And thereby you create life as a work of art. So, I would like to show people how to create their life as a work of art.
VA: Celebrating life on its bright side seems to be your everyday norm. Including your laboratory, 'Le Moulin Jaune'. Why do you think this norm that seems so normal for you to follow seems to be so hard to reach for most people?
SP: They are lost! They lost their way. And the best way is for you to go back to your childhood, when you knew exactly where to go and what to do. You should really remember your childhood dreams and go back to continue doing, moving towards your childhood dreams. This is when everything really comes together in harmony. Then even if you spend 20 hours a day working, every single hour is enjoyable, it's fun because it's about realizing your life's purpose.
VA: As a clown, what would you like to be your best contribution to humanity?
SP: Oh, that's a big one! (laughs). I think it's already great to remain in the memory of your kids, of your friends, of people close to you, as someone who may have helped them find their right notes, the right sound in their lives. But of course, you also want to have lots of people close to you.
...through clowning, I'm finding a space that is harmonious for me, that is in keeping with who I am.``