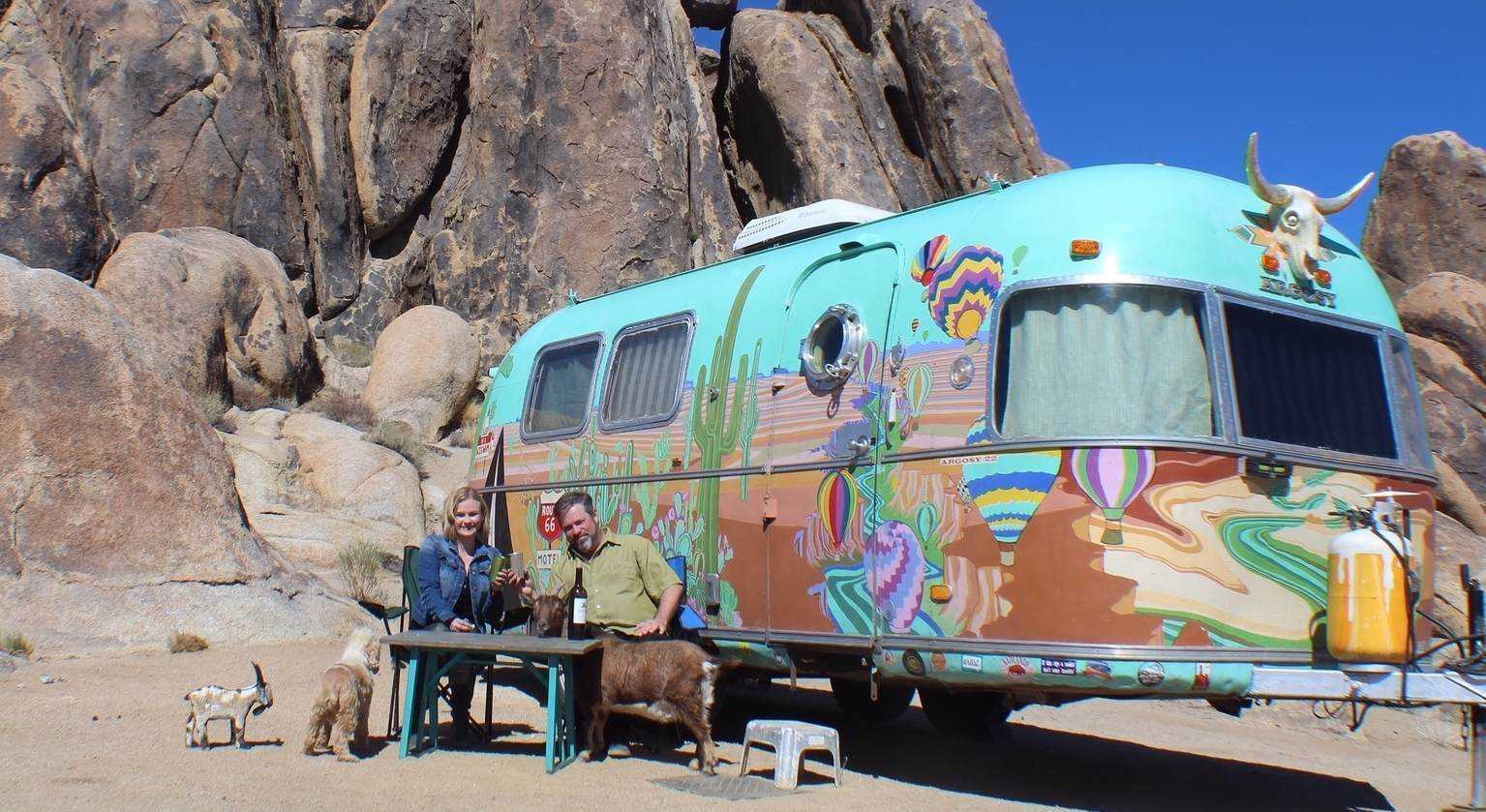 08 Oct

Argosy Odyssey
Photo courtesy of Chad & Cate Battles
Would you start over completely, sell all your possessions, and leave behind the only lifestyle you've ever known, to travel the country in an Airstream with a goat and a dog? Chad and Cate Battles did it and here is their story.
By Victoria Adelaide | Oct 08. 2018
Victoria Adelaide: Who are you?
Cate Battles: We are Cate and Chad. We lived in Asheville, North Carolina where we had a bar for five years that was very successful. As time went by, we began to get ready for Chad's youngest child to graduate and move on. So, we decided that when both of the children left the house, we would sell the business, buy an Airstream, and travel. It took us two years to do it. We've traveled over 3000 miles.
Victoria Adelaide: What are the challenges you face while traveling?
Chad Battles: Well, living in a small space and not having as much of your personal effects as you're used to takes some adjusting to.
Cate Battles: We decided that less is more. It's so much easier when you get rid of all your stuff. We sold our house, all our furniture, our TV, and pretty much everything except for heirlooms. It's been awesome living in a small space because you realize you don't need all that stuff.
Chad Battles: That's very true.
Cate Battles: On the road, you get thrown a lot of curveballs. So, you have to be patient and have a plan B, a plan C, and sometimes a plan D when things don't go the way you expect it to.
Chad Battles: Also, you may not always know where you will spend the night until a few hours before dark. (laughs)
Cate Battles: Sometimes, you're driving down and your tire blows out in the desert and there is nothing and no one around. Or it's in the middle of the night in Death Valley, it's pitch black out, and you mistake a dry creek bed for a road and become beached overnight. So, you have to MacGiver your way out of things sometimes.
Chad Battles: Also, when we travel with the animals, it makes it a little bit more difficult to go out and eat. We can't leave them in the camper for long periods, so you have to adjust that way too.
Cate Battles: Yes, you have to do a lot more planning when traveling with a goat and a dog.
Victoria Adelaide: I believe you! (laughs) How do you manage on a daily basis with the animals?
Cate Battles: It's pretty interesting. (laughs) Our goat's name is Frankie and our dog is Maggie. They both love hiking and camping. They're great on the road. We take them out to bars and restaurants; we just have to seek out animal-friendly places. It's just a little bit more planning but there's a lot of places where you can take animals on hikes, such as outdoor bars—places like that. We have a great time!
Victoria Adelaide: Was something missing in your previous lifestyle?
Cate Battles: We definitely were not able to just pack up and go. We didn't have that freedom back then because we were raising two children and we were very involved in our business with our bar. We rarely took vacations. We couldn't go away; we had to be there for the kids. We always knew when the children went out on their own, we would make a big life change.
Victoria Adelaide: What has the nomadic life taught you?
Cate Battles: It has taught us to appreciate the small things in life. When we are on the road, I want to see every sunrise and sunset. We appreciate a hot warm shower and fast Wi-Fi because we're normally in the middle of nowhere when we travel. We appreciate all kinds of small things that you may think are mundane in normal life and in our previous life back in Asheville. Being out in nature is really important to us. Spending intimate time with one another without the background noise of a TV, or without outside things going on, is a good bonding experience.
Photos courtesy of Chad and Cate Battles.
Victoria Adelaide: Don't you feel afraid sometimes?
Chad Battles: I wouldn't say we are afraid. I would say we occasionally get anxious. It is not fear. But you must also have faith in yourself and confidence pretty much all the time. I suppose it could worry some people more than it worries us.
Cate Battles: Yes, we just have to have faith that we will make it work. We might have to have a plan B or a plan C if things don't turn out the way we were expecting. Luckily, Chad and I have different skills and we complement each other on the road.
Chad Battles: You have to recognize each other's strengths and weaknesses and be honest about them.
Victoria Adelaide: What would you like to say to someone dreaming to embrace a certain lifestyle but who has not found the necessary confidence yet?
Chad Battles: You only get older every year. I think it's important that you do something like this while you still can. You just have to put anxiety behind you. If you have the means and the will to do it, you should do it—now. And not put it off until you can't do that anymore.
Cate Battles: I totally agree with that. I always try to live every day as if it was my last. I could die tomorrow. There is nothing worse than living with regret, so I guess we're just living our dream.
Victoria Adelaide: I guess you'll live that way until you cannot anymore?
Chad Battles: Yes! We still have a home base in Grants Pass, Oregon.
Cate Battles: Yes, and every few months we go on a big trip. Our next trip, we'll be doing a month-long loop around Southern California, Arizona, New Mexico, and Utah. So, we're going to do a Southwest tour and so on…
...You have to recognize each other's strengths and weaknesses and be honest about them``